SAMANTHA OF PARTRIDGE HILL
For over 35 years we have shared magic moments with our Labrador Retrievers. Pictured here is "Sam", a Chocolate born 29 August 1998, the latest addition to our family. She was brought home a few months after we lost Dusty Roads, another female (Black) after 15 wonderful years. Sammy was registered with The American Kennel Club SN571886/01 12/3/98. Sire: Busta Fillbert (SN422083/08 11/98). Dam: Bodacious XX (SN076912/12 1/96 OFA54G). She passed away peacefully of old doggie age on 6 November 2012 at the age of 14 years, 3 months. The Vet used to remark how slim and trim she was. It's easy as she grew up with our 2 boys and all their friends on a lot over 4 acres where her ashes are scattered. So she's still with us. We all miss you Sam. RIP.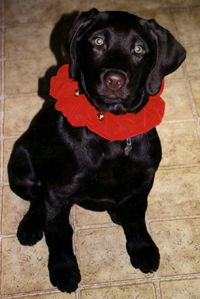 Sammy enjoys her first Christmas (1998) in her new home as a very fast growing pup. Here, she appears almost black due to the lighting but her coat is a beautiful dark chocolate brown. In this picture she appears to be expecting a (another) Christmas present-- likely the edible variety.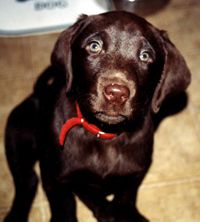 "Aw please just one more" Approximately October 1998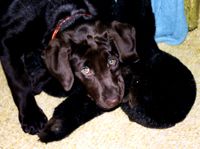 Resting with her favorite friend "Buddy" the stuffed Gorilla. Buddy is retired and in need of repair at this time.



Page created 1 April 2000